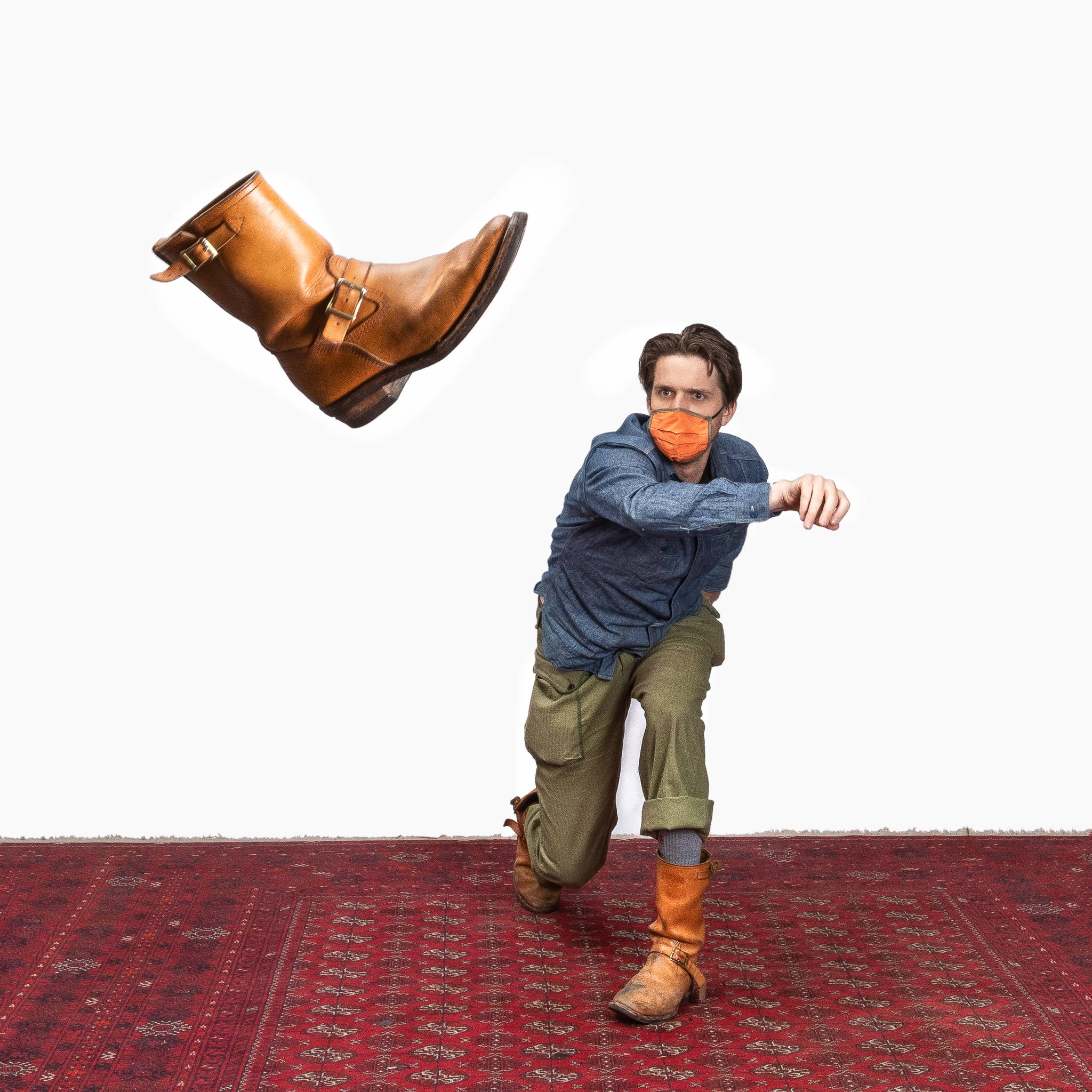 Neil is the other co-founder and co-owner of S&S. When he's not at S&S, he's riding his motorcycle or sleeping.
His personal style is that of a sober Gram Parsons yelling at Johnny Strabler.
He has a lot of engineer boots, a lot of opinions about engineer boots, but has yet to finish his engineering degree.
This blazer ticks all the boxes for me, and I feel like an elegant yet grizzled Southern lawyer arguing to burn down a corrupt courthouse and winning my case.
I've been wearing my loopwheel zip hoodie while drinking my coffee contemplating the existential question of "why should I go to work today".

I then realize I'm wearing a simple hoodie that's the result of years of development and decades of expertise. I draw upon this and muster up the courage to go into the store and begin my day.
It's also comfortable as all hell.
This tee has a deeper meaning to me - I've visited many a sewing factory over the years.
I've seen the hard work of garment industry workers, and the industry has been hit very hard by the pandemic.
These tees are made in LA, and all of the profits for get donated to the COVID-19 Emergency Relief Fund for LA Garment Workers.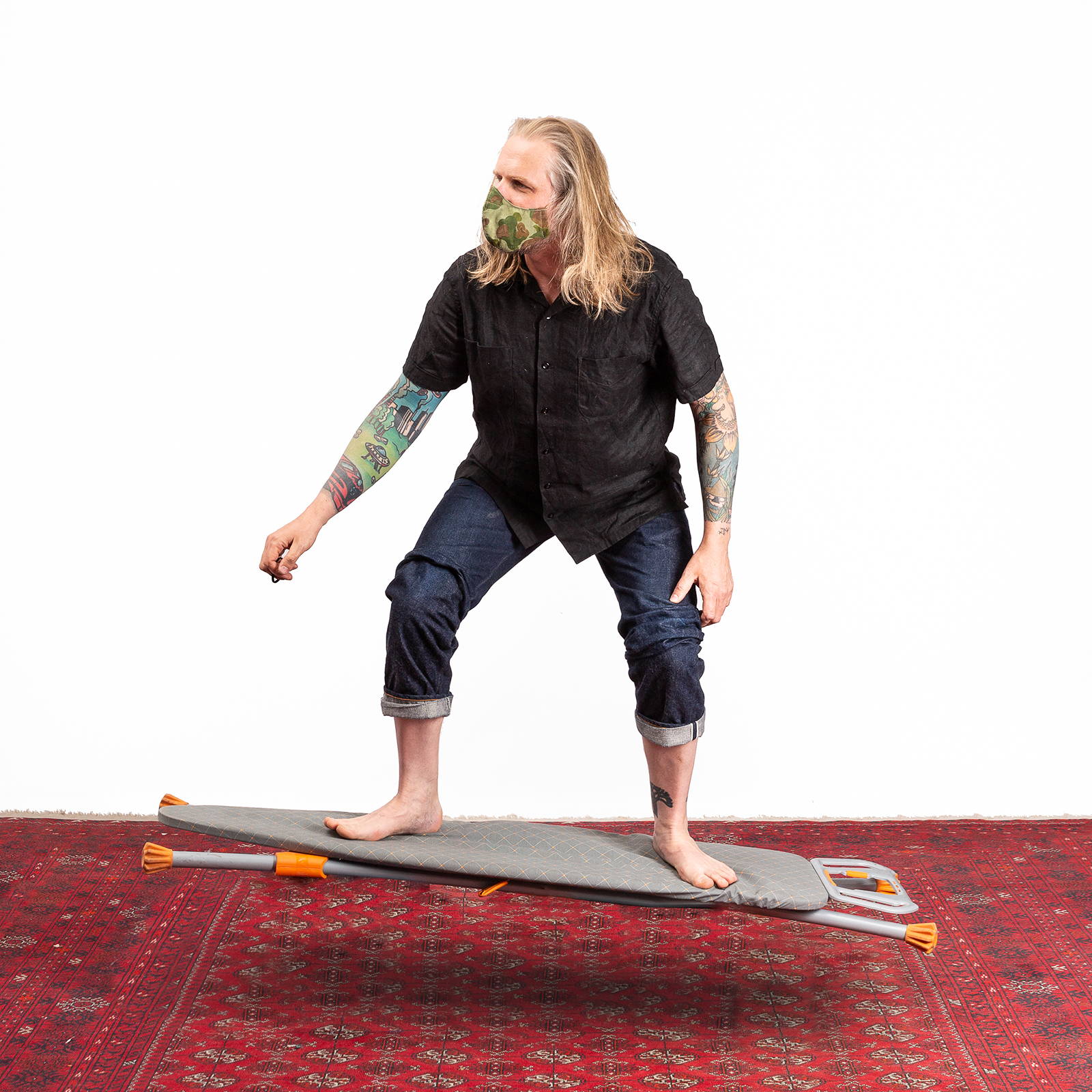 Jeremy is a co-founder and co-owner of S&S. His preferred style is biker-professor-but-add-more-camo-and-patterns.
His style icon is Robert Redford in Three Days of the Condor but set in the world of Easy Rider after living in the desert compound from Vanishing Point.
While in Japan, he once made a dire mistake in a fit of anger.
Ever since then, a travel curse has haunted him.
This is a really confusing garment, but after spending some time staring at it, I really dig it.
The complete nonsense of the positioning on the place names sells it for me - especially as two of our favorite spots in Japan are shown adjacently while being geographically really damn far apart.
I'm really hoping no-one is smart enough to nab the last 36 in these so I can swoop them at the end of the year.
The recursive menswear X military vibe is irresistible, especially when done up in a style as advanced as the Ghurka.
I like sneakers and I like dry feet.
This way, I get both, and with the superior mouthfeel of the slow-roasted kiln-baked vulcanization that sets Moonstar apart from your average pair of Vans, these are an unbeatable find.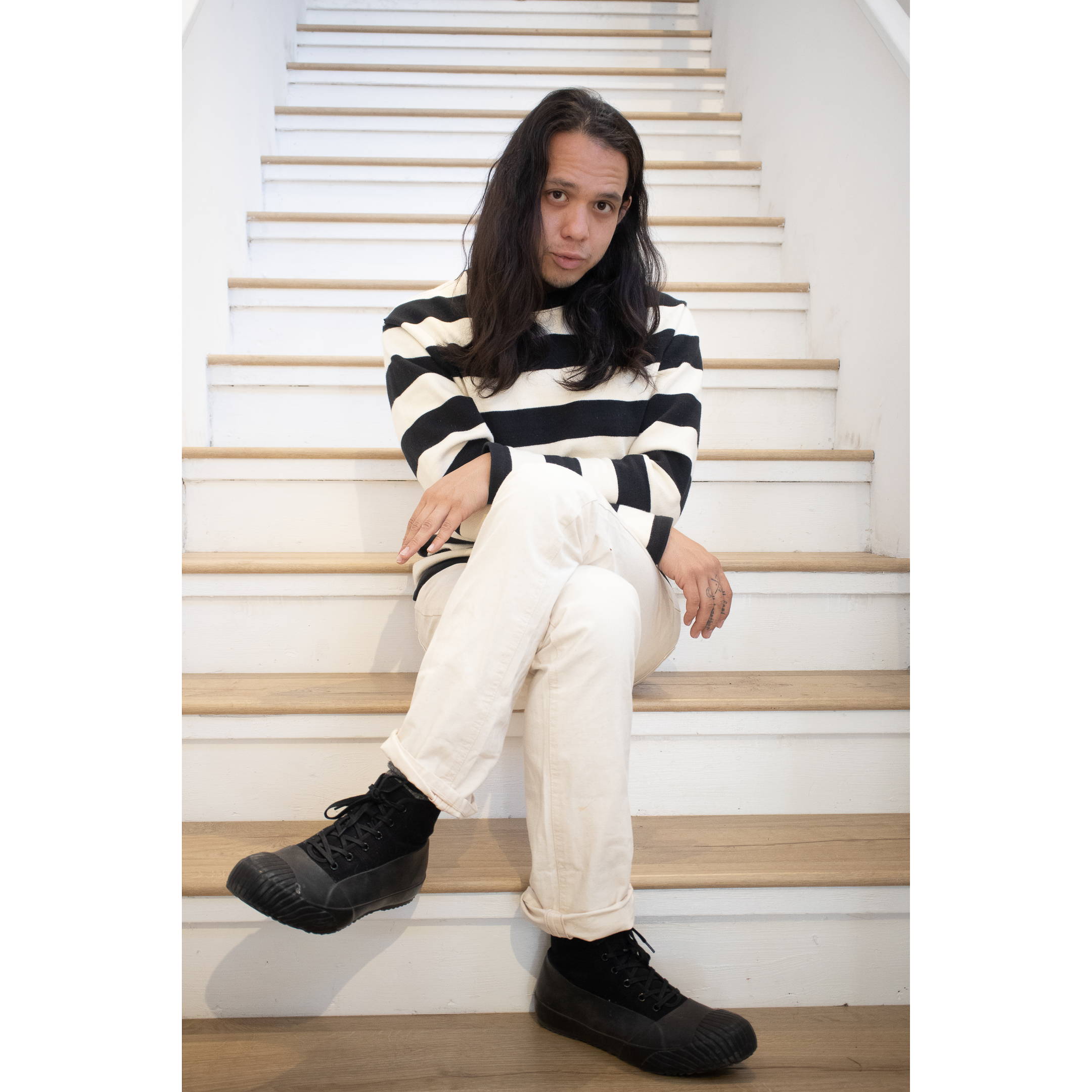 Ysidro was born in El Paso Texas and moved to Santa Fe in 2010.
He was raised by anime, MTV, and the Final Fantasy video game series.
He credits Mary Kate Olsen as his ultimate fashion guide, a few of his favorite things are:


Wong Kar Wai

Junya Watanabe For Comme Des Garcons

Yves Klein

Tea tree oil and vetiver mixed together

Noface from Spirited Away
It's 2020 and I might need to join a cult. Better to be prepared.

These jeans have the perfect fit for me, and the dirtier they get, the better they look.
He is a perfect basic. Something you'll wanna leave by the door and grab on the way out.
You can trust him. He is trustworthy.
He will not let you down.
I love a good chonk shoe.
Comfy. Ugly. The best shoe around.

People will say "Oh boy! I bet you can write a beautiful poem with those things on!".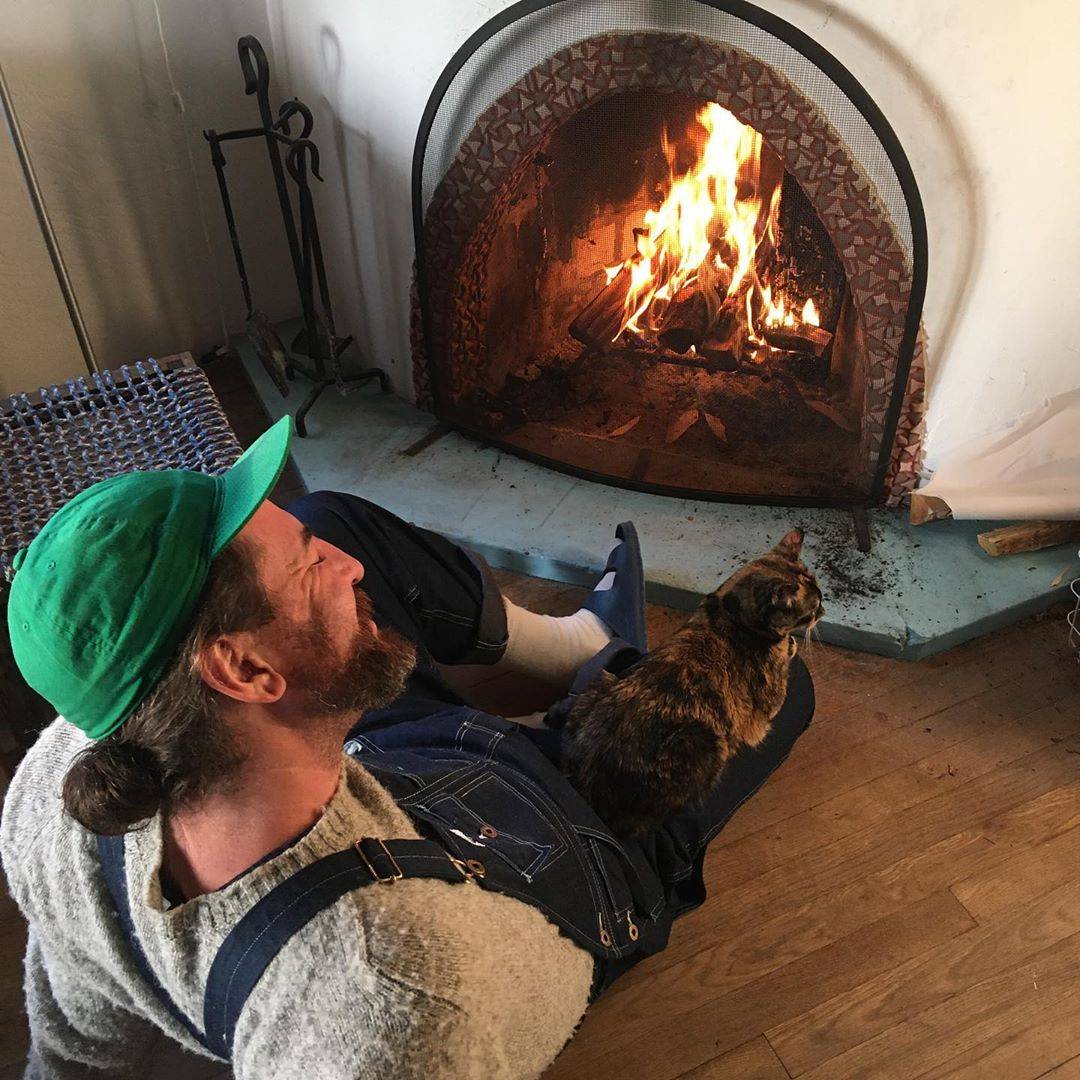 James' style icons are Ramdam Touhami, Lee "Scratch" Perry, Keizo Shimizu, Margaret Howell, Peter Shire, Dennis Wilson, Alexander Girard and Nathalie Du Pasqiuer.
When he's not at S&S, he's working in the studio making sculptures and drawings for upcoming exhibitions, writing his contribution to an upcoming book on Agnes Martin, making ceramics with his step father, eating copious amounts of green chile and herding cats..
My favorite everyday pair of jeans - the fit is spot on for me - not too slim, not too roomy - and they pair well with everything.
I've been wearing Howlin' sweaters for years, and I love their playful simplicity. The Ginger Dream is my favorite color this season.
My first pair of Lofgren boots - what an upgrade!
Comfortable out of the box and perfect for Winters in Santa Fe.
I love the vintage logger boot styling - they're named after the nickname for the steam donkey operator's..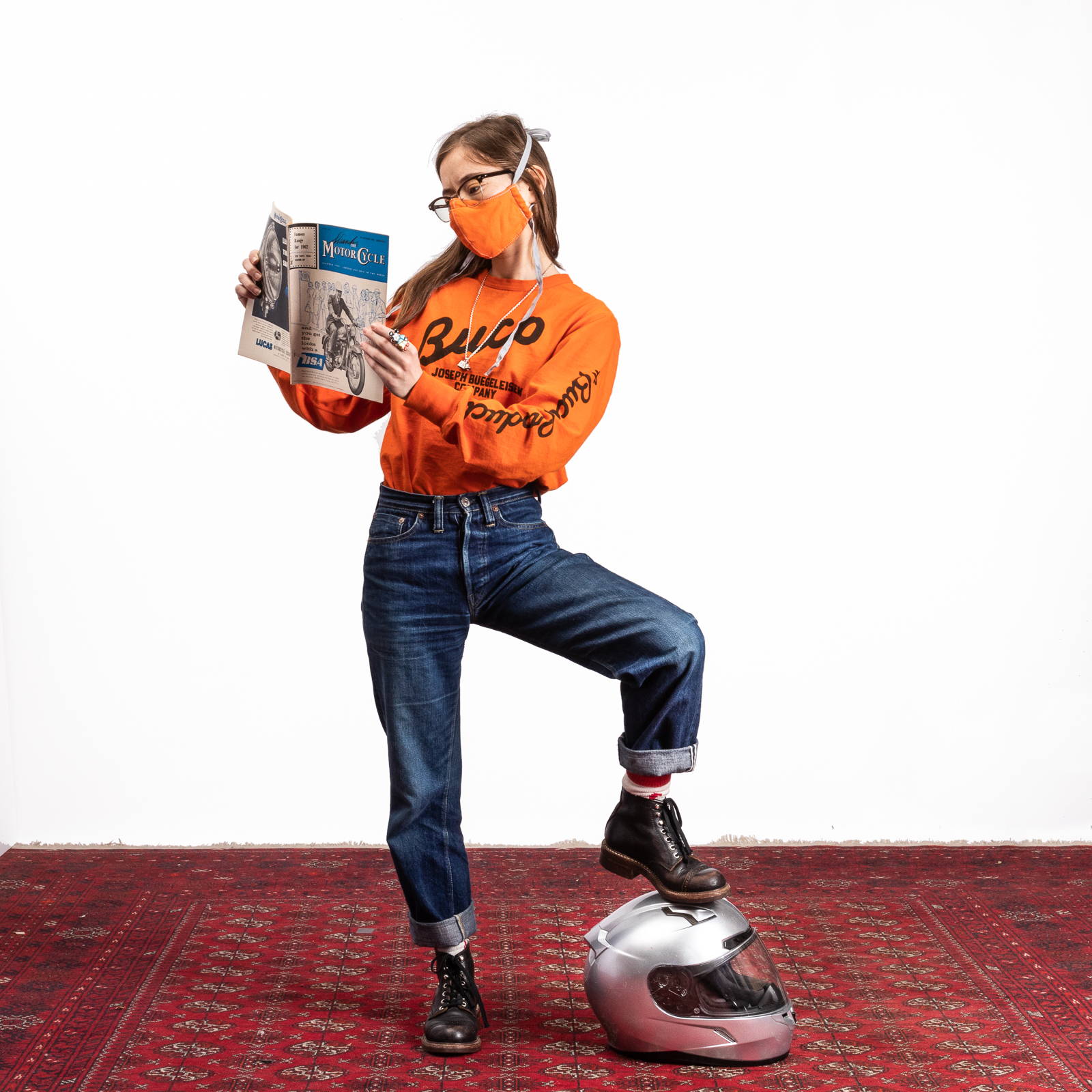 Mari likes safety orange, Janet Jackson and fake food.
She is inspired by Japanese Showa era style, the Ivy scene, and the Mods.
Her dream car is a Suzuki Mighty Boy.
A Western Goth dream, the moody and slightly dangerous cousin of your favorite black cowboy boot.

Perfect for those days where you feel just a little bit like a bandit.
I used to be a tattoo apprentice, and the Pharaoh's Horses are one of my favorite American Traditional motifs. And it's on a Zippo, so you can show off your appreciation of folk art while lighting things on fire.
When I wear this, I feel like I'm waiting for my neighbor to bring me fresh tofu.

Some real Japanese country spirit!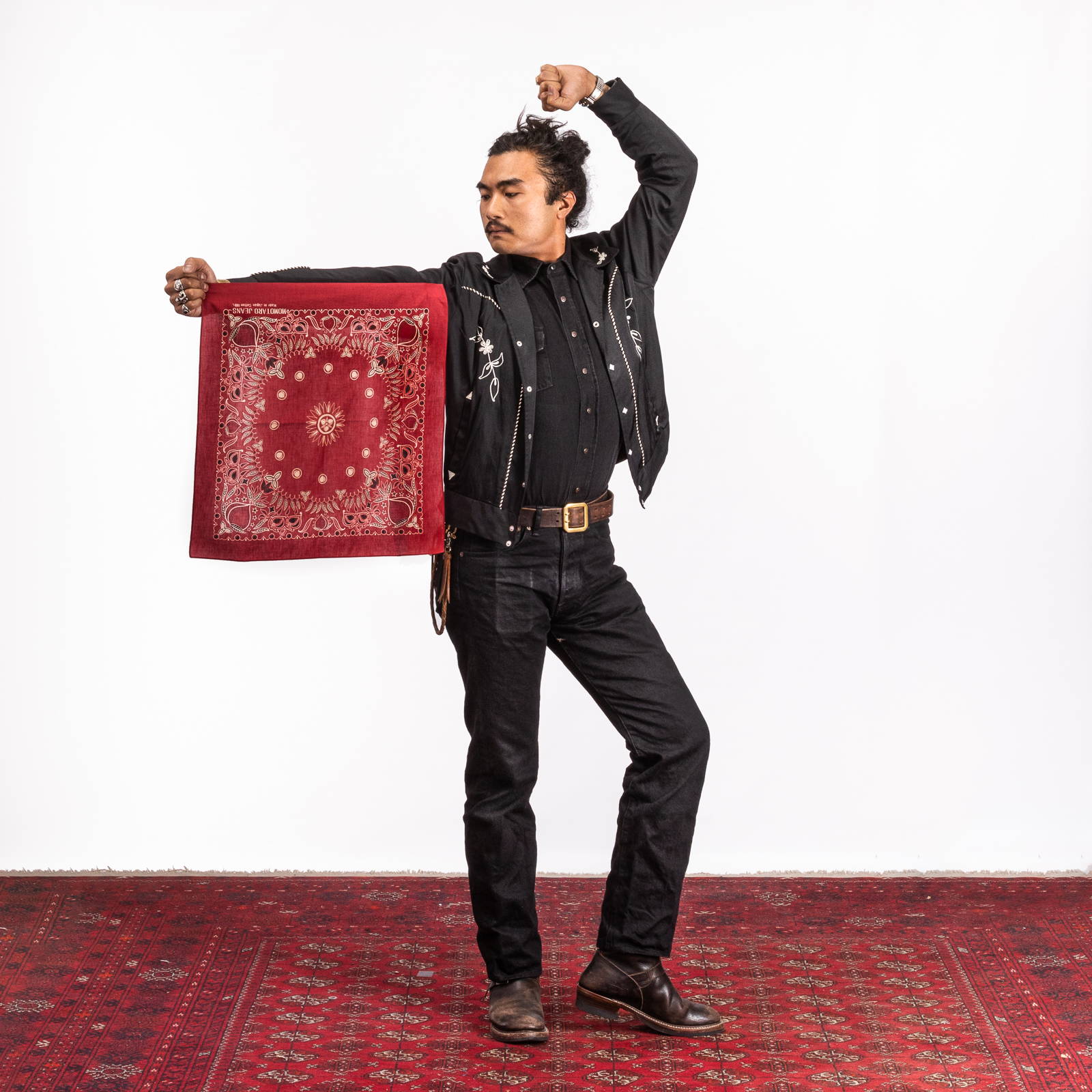 Gen's style is inspired by old westerns that he watched with his ol' seadog when he was a lad, WWII militaria, the 1950's greasers, the reign of the Canadian tuxedo in the 1960's-1970's, and the UK punk scene in the 1980's.

His style icons include Marlon Brando, Tom Mix, A$AP Rocky, Danny Bowien, and Jackie Chan.

His drink of choice is a pina colada or a double neat of the cheapest whiskey. He wishes to marry Debbie Harry, but a boy can only dream
The G-1 flight jacket is my all-time favorite of vintage military jackets. The goatskin leather is easy to break-in (it's not always about horsehide, folks) and the mouton fur collar allows me to battle the mild conditions of Oakland Winter.
These trousers making it to my top favourites isn't a surprise as I am a sucker for a cinch back and brace buttons. They also make my caboose look more than pretty okay.
These boots were worn by US troops that liberated my country in WWII. They're going to be the next pair of Lofgren boots on my feet..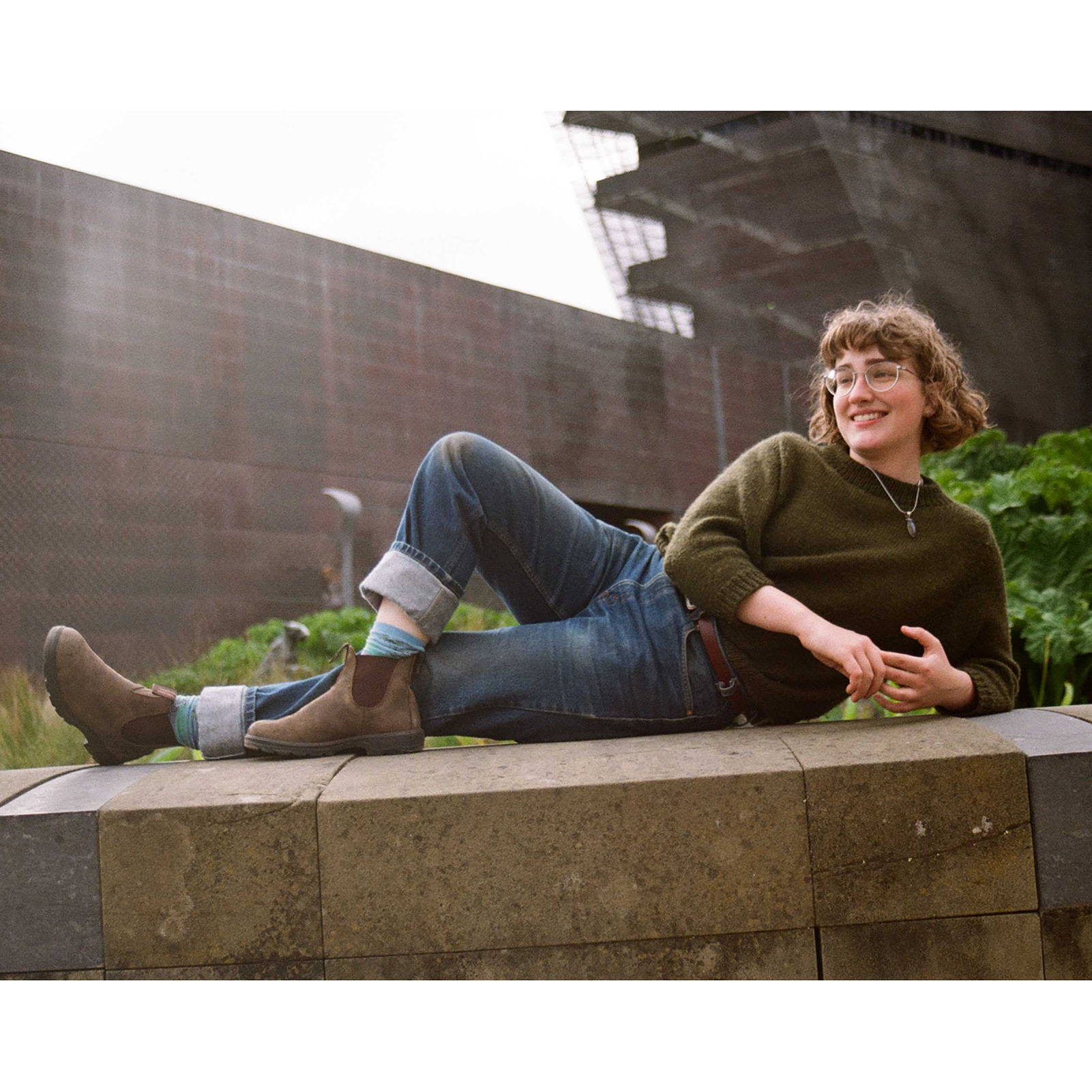 Erin's favorite brands are Ooe Yofukuten, MotivMfg and Warehouse.
Their style icons include every photo of a butch lesbian from the 1950s and Milo Thatch from Atlantis.
In their spare time, they like to knit, sew their own clothes, and eat fish & chips while overthinking things.
I have a lot of bad hair days and honestly, I can't be bothered to fuss with a comb half the time. This hat keeps everything together.
This is what the cooler, alternate universe version of myself would wear. Frogskin is also the superior camo design and I WILL NOT be convinced otherwise!
I cry a little every time I think about this jacket. Softer than any puppy I've ever met and if I owned this, I would probably never take it off. Not even for sleep.
Elliot words and things and he likes to farm and make cowboy jokes. Things and words and stuff but the important thing is workwear that is good for farming and gardening.

A general sense of imagination combined with style as sharp as a pruning blade.

Per the custom of his British heritage, Elliot proudly carries a photo of Queen Victoria in his wallet.
A super heavy, chunky, ultra high quality crewneck sweater made from the finest merino wool. It's my ideal mid layer.
I can't stop thinking about this blazer. It's exceptional in every way - fit, fabric, construction. It haunts me.
A very finished and put-together look for when I'm feeling otherwise. Add these for a classy trouser and to complete the look of really comfy guy who wears a lot of warm brown clothing (my desired look at all times).